I got up this morning and was eating breakfast with my Husband when he suddenly grabs my arm and says "DON'T MOVE!" If you want me to panic, tell me not to move. I immediately suspect I am crawling with some sort of creature and am about to be eaten alive. So, of course, I move! Meanwhile, Michael is creeping over to the window, telling me to grab my camera. I grab it and follow him and this is what we see on our back fence!
Now if you didn't notice those claws, here's a close up! We have a lot of little rabbits running around our neighbourhood, and I suspect that's what brought this fellow by. Anybody know what it is?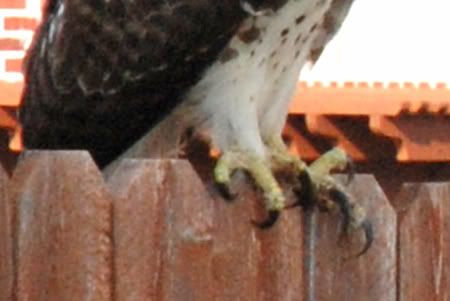 After a couple clicks of the camera, he quickly tired of me and flew away. How awesome is that?!